Addressing the Ladder of privilege
If you Google news about my home country you'll see it's not going through the best moment. In fact, it's so bad that it's currently experiencing one of Latin America's largest mass migrations in recent history. I was born and raised in Venezuela.
Like many Venezuelans seeking a better life, I had to flee. And even though things are okay, I can't help thinking that being an immigrant is one of the factors that might determine where I get to or what I achieve (or don't) in this society.
I'm a gay, Latino, immigrant and I come from really poor upbringing… And I know I didn't get the short end of the stick.
A lack of privilege is that hidden status that bitterly emerges whenever you try to kiss someone you love in public, deal with law enforcement, discuss your salary, try to make your voice heard, look for a job, and an endless list of daily activities that can become real challenges.
Damn it, even fucking things up without major consequences is a privilege that a few can afford.
According to Courtney Sears, "the effects of failure aren't the same for everyone. For students who are marginalized in any way, failure has the potential to reinforce every negative image, bias, or stereotype they are facing."
That 's fucked up. 
So, as controversial as privilege might be, addressing it, especially from the top down, is the first step towards privilege equality. A first step, not a definitive solution, but an action that can trigger awareness and potentially spark a domino effect.
Addressing privilege at work

With a simple activity, privilege and self awareness can be brought to the table at work. Although a controversial activity, it can lead to interesting discussions (we've tested this ourselves with the Fuckup Nights HQ team 😉 ).
It is about creating self-awareness and a healthy acknowledgment of our current privileges. It can open our eyes to understanding where we stand, and how we can help.
For this activity, everyone is awarded 100 points. 13 questions related to privileges, and/or access to resources are asked. The questions refer to socioeconomics, gender, location, access to high-quality education, family background, income, access to public health, etc. For example:
Are you a cisgender woman? If so, then you lose 10 points
Do you identify as part of the LGBTQ+ community? If so, then you lose 10 points.
Do you consider yourself non-white? If so, then you lose 10 points.
Did you go to a private school/university?  If not then subtract 10 points.
Were you born in a low-class/poor neighborhood/city/country? Yes? Then that's -10 points.
Do you consider yourself and/or your family as a low-class/poor individual? If the answer is yes, then that's -10 points for you.
Do consider yourself a person with a disability? If you are, then that's -10 points

Do you consider your religion different from the

predominant

in this country? If it is, then that's -10 points
With each question, those with less privilege lose 10 points. Hence, leaving the more privileged individuals closer to 100.
At the end of the survey, we review, individually, our scores. Team members don't need to share the results of the survey, but are asked how they felt during the exercise and how they feel now.
The two takeaways to bring to the room
1: PRIVILEGE IS NOT SOMETHING TO BE ASHAMED OF… IT'S SOMETHING TO BE AWARE OF:
It's understanding our privilege (or lack of) and how we, from our own standpoints, can open up spaces for other groups. Awareness is important, it helps us empathize with other individuals, see their issues from a different perspective and become an ally for these social issues. The sole action of acknowledging the issues is a huge step towards inclusion.
2: Everyone is fighting a battle you know nothing about… BE KIND, ALWAYS:
No matter how high or low you are on the ladder, everyone faces the same emotional struggles with insecurity, prejudice, social blaming, etc. For example, you could argue that those with better access to high quality education and resources might handle emotional distress better. But the fight should not be against each other, it should be against the system.
That established system determines who gets what and when, we are all part of it. Kindness might be the bridge for socially divided groups to reunite and restructure the common beliefs and old practices that separate individuals.
The hiring process: the issue with the gap in the ladder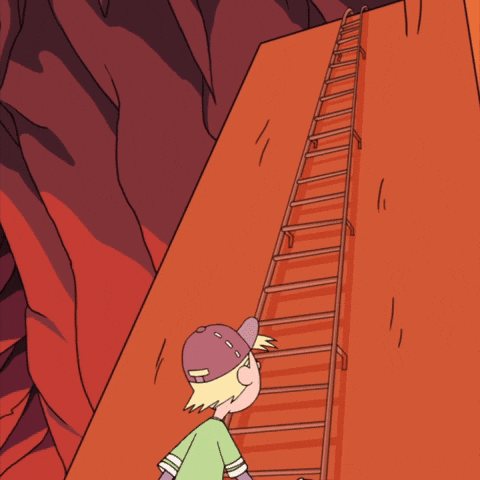 We've previously talked about diversity and inclusion in the workplace, the reason that companies are interested in this topic and getting tips for creating more diversity. But is it also important to address how companies address the gap between groups?
Minorities might have less access to resources, including high-quality education. This will directly affect them when opting for a job opportunity. The less preparation I have, the less qualified I will be for certain jobs.
Some companies implement a Professional Development Program (PDP) which creates a career path inside the company, including providing the necessary resources for that talent to develop successfully. This includes training, courses, and academies, etc and allows individuals to have access to more job opportunities and grow inside the company.
Another good practice is to become a mentor for people outside of your company. This will mean providing a dedicated time to train recent graduates from less privileged backgrounds and teach them about entrepreneurship, specific subjects, general orientation, etc. 
Some companies even assign new hire talent to current team members, for training and growth. If the talent shows measurable growth in a specific time, both receive benefits (bonuses, vacation time, etc).
Being a diverse/inclusive company/organization is a challenge. It takes an extra amount of time and work. You're up against a system that isn't designed to be inclusive. You'll face educational inequality, unconscious bias, impostor syndrome, and so many other obstacles.
But it will make a difference, in both your company and in the world. The capacity to see each other as equal, no matter our differences, is embraced by individuals, and then by organizations. The opportunity to positively impact society solidifies our humanity, making us more capable of love, respect, acceptance and supporting each other regardless of our differences, to build a better future, together.
Now I'm more conscious of, and understand what my privileges feel like. Even my educational background (which, in the circumstances, was the one I could afford), has determined on many occasions if I got the job or not, if I got that promotion or not… if I get the opportunity to break the system, slip through the cracks to the other side, and have a better quality of life.
Norman García
Community and Operations Coordinator at Fuckup Nights
Norman oversees all operations & financials of the global movement. He's also in charge of implementing powerful management tools to improve the experience of all fuckuppers globally. He loves photography, theater & movies. Also, learning something new,  travelling, and tasting new and interesting food.