At this point of the quarantine you have probably read things like this on your social networks:
Well, this statement hit me hard. As a child I was "the top of my class", I've always put pressure on myself to be the best and so now the new pressure was getting an A in the Quarantine Test. 
I signed up for every online course that interested me, exercised intensely, drew mandalas, cooking has never been my strong skill, but I tried it in order to add something to my social life.
One day, I woke up feeling hopeless. I spent the whole day trying to avoid showing my feelings or being vulnerable with my parents and friends. At the end of the day, I went for a walk and found a corner where I started uncontrollably crying. I felt that like I was failing the people who'd always seen me as a strong woman. I was failing the exam. 
Getting used to the idea of "the new normal"

After crying in front of my neighbors dog for a long time, I decided to analyze my feelings. This behavior is a reflection of our life. Day by day we are bombarded with different messages shared by our friends, the media and influencers. We end up with a fake expectation of reality. And our reality right now is really scary. 
We are experiencing a collective trauma, in other words, a very intense emotional shock caused by some negative event (such as the current one). It is logical that our bodies are generating anxiety as a defense mechanism.
Now, we need to be aware that each person reacts differently to this kind of trauma and that they need time to heal and adapt.
When a person goes to prison for the first time, he/she must go through a steady process in order to adapt to the new reality. It is such a stressful time, that anxiety and other psychological conditions strongly affect their ability to work and relate to others.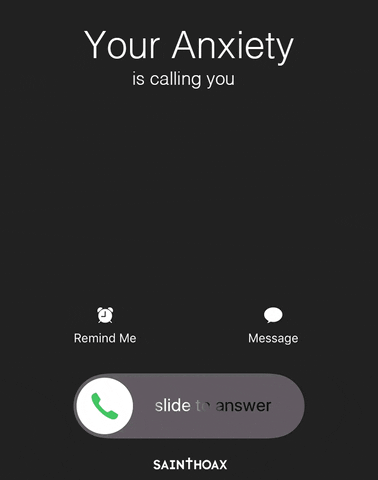 They may also experience physical symptoms, such as body aches, tiredness and weakness.
I'm not saying that we are living in some kind of prison, but the symptoms and emotions are similar. Not wanting to do anything is okay.
The massive GASLIGHTING and the social media.

Not only are we dealing with the huge emotional impact that "The great and terrifying pause" gives us, we also have to listen to leaders and the media telling us that if you don't finish a master's degree, you are falling as a human being. Those who share this type of message have not considered that each person's mind is a world of it's own and we're all living very different realities.
The media using social events to sell us a reality is not a new thing, this is called Gaslighting, a term used in marketing as the manipulation of information to make someone doubt what they know to be true, even about their own reality. (Ale recommends: There is a very good movie about it called Gaslight).
Brands like Coca-Cola will eventually tell us how much happiness we'll feel when hugging each other and drinking a Coca-Cola together, or the government will tell us the great story about how we got through the pandemic together and no one is going to mention the lack of leadership.
The importance of being resilient.

I am not suggesting that these messages are always negative or harmful, but after being so affected by that post I read, I questioned many of my own behaviours and I came to the following conclusion:
"Right now, the only reality that should matter is your own, only you can decide how you want to live this experience, with your own expectations and without being too hard on yourself or adjusting in order to please others." 
According to our Fuckup manifesto, the best thing you can do at the moment is "be the person you want to be". Before trying to be an expert or guru of time management in social networks, think about the realities that others are living and act from a place of love.
At this time it is better to share good news and messages of support with those who are on lockdown and living with an anxiety that they are unable to cure by going out with friends or attending enjoyable faimly reunions.
If you feel like creating a new routine, try to follow point no.8 of our Manifesto and: "KEEP IT SIMPLE".
Little by little, think about what you want to achieve in this time and what you'd like to take with you at the end of quarantine. It can be something small: learning to breathe to lower your anxiety levels, continuing to video call the people you miss, or something a little more elaborate like taking an online course in something you enjoy. At home we change the world by protecting and taking care of each other, at home you can also change something (big or small) in yourself.
Everyone can live an authentic life, it is the only one you have, so fail and start again. 
Working at Fuckup Nights, surrounded by so many stories of failure, is a constant reminder to me that everything will be fine. It is up to each of us to take the best we can out of every crisis or trauma. And if not, you'll always have a great story to tell on stage, online or in a blog post for Fuckup Inc.
Alejandra Torres
Fuckup Nights Mexico City
A Fuckup Nights fanatic before becoming the Fuckup Nights Mexico City Organizer. Ale organizes events and creates cool collaborations to spread Fuckup Nights' message around the world.A professional communicator. She was born and raised in Monterrey N.L (North Mexico) and so she loves to enjoy a cold beer and "carnita asada" in the company of great people. She loves old school reggaetton.